Sheet Music Store
Below you can browse, preview, and purchase my compositions and arrangements for groups ranging from SATB sacred choral anthems to solo contemporary pieces - I have a wide variety to choose from! You are also always welcome to reach me by email for specific invoices, purchase orders, commissioned works, and custom arrangements! However I can help meet your groups needs - I'm your guy!
The Star-Spangled Banner - SATB
JW Pepper - 2019 Editor's Choice
Here's a fresh arrangement of the national anthem that is spot on for contemporary a cappella singers! Combining the traditional with some tighter contemporary harmonies and a clever modulation to accommodate the huge range on the melody, this unique setting is sure to inspire and impress. Make it your standard arrangement to perform at concerts, assemblies, games, and events.
Be Thou My Vision - SATV Divisi
JW Pepper - 2018 Editor's Choice
A stunning a cappella treatment of the enduring Irish hymn. Shimmering "loos" in clustered harmony yield to a simple statement of the beloved melody, which soon blossoms into decadent choral colors. Expressive tempi and dynamics, coupled with ample divisi, offer both exquisite sounds and artistic challenge.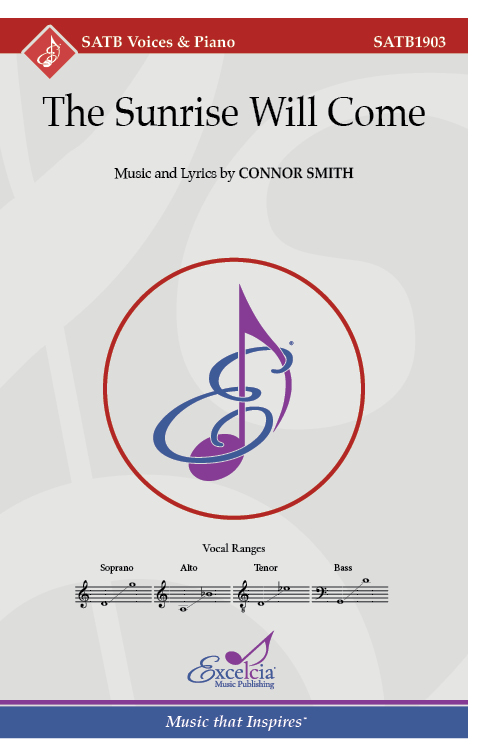 The Sunrise Will Come - SATB
With a hauntingly beautiful original text, The Sunrise Will Come is the perfect piece to showcase lyrical delivery and phrasing. The song's minor key paired with the hopeful lyric creates a sense of forward-leaning, satisfied at the close of the piece with a Picardy third. Interesting harmony, satisfying (yet accessible) divisi, a gorgeous a cappella section, and a stunning soprano highlight in the final moments of the piece set it apart, making it an excellent choice for an intermediate-advanced group's concert or festival selection.
SATB - Choral Anthems
The following anthems are designed for SATB choral groups - both sacred and secular. Click on a title to read more about it and listen to a demo! Some arrangements also have reading session videos available in the description to follow along with the demo. Orchestration is available for many of these pieces, and can be requested via email to connorsmithofficial@gmail.com!
CONTEMPORARY/MUSICAL THEATRE & OTHER MUSIC
In this category, you will find Musical Theatre and Pop selections for solos, duets, small groups, as well as a collection of other arrangements and compositions that fit in their category.
CHECK BACK SOON FOR MORE!
I have over a hundred arrangements and compositions for groups of all sizes - and I'm in the process of expanding and growing this online store!
Have a specific request?
Email me! I'm more than happy to accommodate most any request for sheet music, and contacting me via email is the easiest way to get in touch with me.